Gerard Patrick, Sr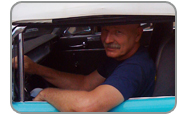 Gerard Patrick, Jr
We have been established in the community for over thirty years. Gerard Patrick Sr. created the strong principles and work ethic that we still value today. Gerard Patrick Jr. continues these traditions at Duane & Jerry's A to Z Auto Repair in Ronkonkoma, NY.

Our skilled and trusted team works diligently to ensure that your results are 100% and your experience is positive. We are one of the most respected repair services on Long Island, and we are proud to maintain our reputation through our commitment to our customers. Our customers continue to return to us for *all* of their auto needs!

We have provided a listing of our A to Z services, detailed directions, and towing information here on the web. Contact Us! today for additional information on auto repairs, estimates, diagnostics, and New York State Inspections.